IT recruitment sexism is alive and well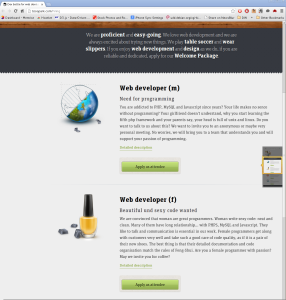 With the number of female software engineers standing at 20.9% [1], recruitment of females into the industry is a major concern. A friend of mine, Rosemary Francis who's MD of Ellexus, has a great talk about this issue.  It mentions various methods you can use to tailor your job applications to be more attractive to females, by simply being careful not to exclude or put off potential applicants.
However, there is also a very poor way of doing so, which is highly sexist and plays to stereotypes. As we can see from Bloopark's hiring page, this is exactly what they have done.
Web developer (m)
Need for programming
You are addicted to PHP, MySQL and Javascript since years? Your life makes no sence without programming? Your girlfriend doesn't understand, why you start learning the fifth php framework and your parents say, your head is full of unix and linux. Do you want to talk to us about this? We want to invite you to an anonymous or maybe very personal meeting. No worries, we will bring you to a team that understands you and will support your passion of programming.

Web developer (f)
Beautiful und sexy code wanted
We are convinced that woman are great programmers. Woman write sexy code: neat and clean. Many of them have long relationship… with PHP5, MySQL and Javascript. They like to talk and communication is essential in our work. Female programmers get along with customers very well and take such a good care of code quality, as if it is a pair of their new shoes. The best thing is that their detailed documentation and code organisation match the rules of Feng-Shui. Are you a female programmer with passion? May we invite you for coffee?
Really? New pair of shoes? Pictures of nail varnish? They're in a relationship with code? And why does the male version need to have a girlfriend rather than a boyfriend?
[1] US Bureau of Labor Statistics (BLS) – ftp://ftp.bls.gov/pub/special.requests/lf/aa2010/aat11.txt