GNOME ED Update – April/May
It's time for another update on what the GNOME Foundation has been up to, this time in April and May.
Events
We've been to a number of events in the last couple of months. April saw myself, Kristi, Bastian, Anisa and Stefano at FOSS-North in Sweden. Zeeshan Ali presented a talk on Open Source Geolocation.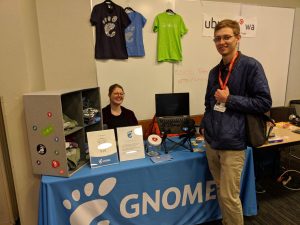 At the end of April, Molly de Blanc and Sri Ramkrishna were at Linux Fest North West. Additionally, Molly delivered a talk related to community guideline enforcement, which was featured on the LFNW web page.
We also had a couple of hackfests in may – Rust+GNOME Hackfest #5 in Berlin at the start of the month, and the GStreamer Spring Hackfest 2019 in Oslo at the end of May.
Coming up in July, we'll be attending OSCON and having a West Coast Hackfest – a combined 3-in-1 hackfest bringing in GTK, Documentation and Engagement teams!
GUADEC and GNOME.Asia
GUADEC and GNOME.Asia planning is now very much underway, and they've now both announced their venues and dates – GUADEC will be in Thessaloniki, Greece at the end of August, and GNOME.Asia will be in Gresik, Indonesia mid October! As always, we're after sponsors for both of these, so if you know of any organisations who can help, please pass along our sponsorship brochure.
Staffing
For those that didn't see my announcement, Molly de Blanc joined the Foundation as our Strategic Initiatives Manager! Molly comes from the Free Software Foundation where she was the Campaigns Manager, working on community organising around digital rights issues.
She's also the President of the Board of Directors of the Open Source Initiative, and on the Debian Outreach and Anti-harassment teams. Regularly speaking at conferences around the world, she has represented multiple projects in community and corporate contexts.
Discourse
We've also been trying something new – we moved the gtk lists away from Mailman and over to discourse.gnome.org. The uptake has been rather impressive – we're now seeing more topics on Discourse then all gtk-* lists grouped together, and more and more people engaged. We also moved over builder, and are looking at other lists, with a possible goal of eventually retiring mailman all together for general purpose discussions. If you're interested, let me know!
Google Summer of Code
The Google Summer of Code internships are now underway, and we have a total of 10 students working for GNOME:
Sajeer Ahamed Riyaf – Converting GStreamer plugins to Rust
Srestha Srivastava – Improve GNOME Boxes express-installations by adding support to tree-based installations
AJ Jordan – Implement a Migration Assistant
Andrei Lişiţă – Add a saved states manager for GNOME Games
Xiang Fan – Update of gtk-rs to support GTK4
Stefanos Dimos – Adding the ability to preview links in Polari
Mayank_Sharma – Improve Google-Drive support for Gvfs
Ravgeet Dhillon – Rework the GTK website
Sumaid – Full stack MusicBrainz integration for GNOME Music
Gaurav Agrawal – Implement side by side diffs in Gitg
This is a fantastic set of projects, and I'm sure all students will be welcomed warmly!